May 2023 Market Report – April 2023 Data For Palm Beach County – By Amy Snook
May 2023 Market Report – April 2023 Data
I must admit that writing this months' market report has proven to be one of the most difficult ones yet.   I have written, deleted, rewritten, and come to realize that most of my struggle is coming from the fact that this is, simply put, an "odd" market.  To be clear, it is not a bad market – as Noreen and I are busy every day – but it's just different.
In doing my monthly research, it's interesting to note, that there are several different perspectives on today's market.  Every month preparing for this market report, it takes time to analyze the final numbers from Florida Realtors. Listening to economists and reading articles, I create spreadsheets and bring it all together with a summary for you to read.  This month, each article and report had a very different interpretation and forecast of what is and will be happening in real estate.  Some doom and gloom, others bright and cheery.
As an example, I read an article from a reporter in Boca Raton stating that the market was "a horror" (his take) yet another article was from a real estate organization which touted positive news for our local Palm Beach County market.  And, while in our Lang office the other day listening to agents talk about their businesses -one agent mentioned she had "no buyers" but another agent shared being stressed about managing all the buyers they have.
Personally, from a realtor perspective the analysis is very clear to me.  During the pandemic, many perspective agents entered the market and obtained their real estate license.  They experienced real estate during the height of the pandemic and had tremendous success. We are now faced with a more challenging market and one where we need to create our own leads, spend money on marketing to reach potential sellers and buyers – and from my perspective, this market is not for the faint of heart.  As an FYI we love markets like this when we get to use our unique set of skills.  Different skill sets, different results.
Now, from a real estate market the analysis is not as easy – writing this report, my thoughts come together to realize the conclusion is that results are very localized and more so than typical.  Overall, to a degree, our market is protected from what most of Florida and for that matter the Country, is experiencing.  The valuable lessons learned during the pandemic still hold true.  People want to live a certain lifestyle and Palm Beach County Florida – including Boca Raton, Delray Beach, Palm Beach, Atlantis and more – provides opportunities for this lifestyle whether it be a relocation or a second/vacation home -we have it all.  Results wise we are seeing a divergence of our local market from that of other counties and areas in Florida which is very different from much of the country overall.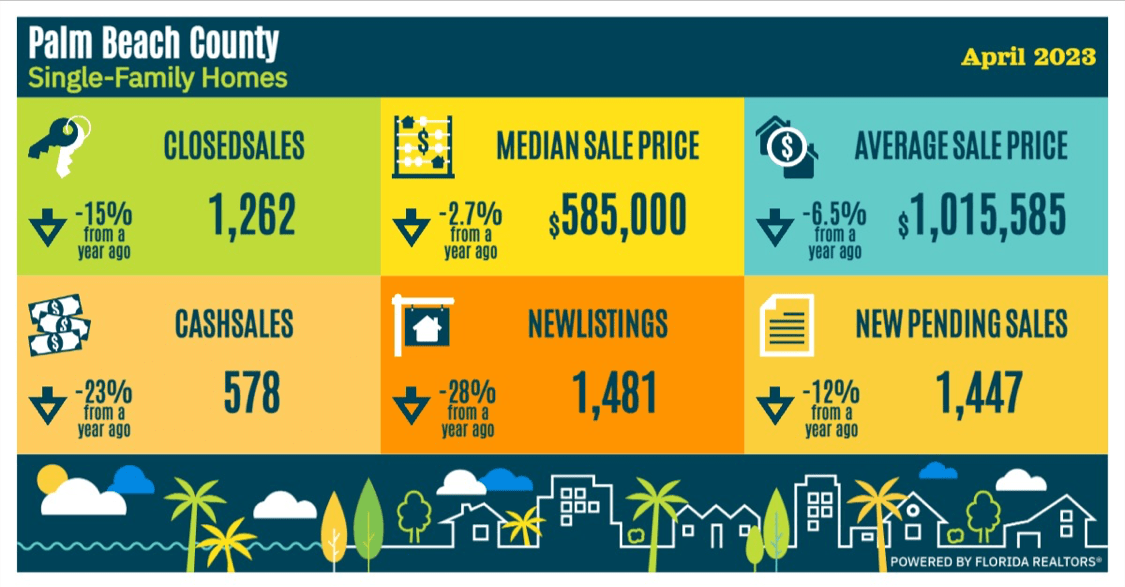 To be clear, in every market today it is common to be dealing with the uncertainty of our economy, inflation, rising mortgage rates and upheaval in politics and global uncertainty.  In my opinion the impact of these issues appears to be less impactful in our area than in others.  Overall, cash sales were down; however, the percent of cash sales of total sales locally is significantly higher than other areas at almost 46% of sales being in cash.
Another example of the strength of our market is that most municipalities around the state had a decrease in both the median and the average sales price in the month of April.  In our county, we are up in both categories at $585,000 and $1,015,585 respectfully.
Under the one million price point in Palm Beach, fewer homes closed, fewer listings came on and in most price points under on million, inventory is up from the month prior.  It is still a sellers' market at all price levels under one million.  Over one million we had fewer closings, less new listings on market but the total inventory did go down bringing the luxury market back towards a more balanced market.
In summary, what does this all mean?   Well, I'm uncertain whether closed sales being down in April is a one-time event or a trend – it is per all reports, taking longer to get transactions closed which could account for the reduction in April results.   We look forward to the June report (May results) to see if our hunch is correct.  In the interim, while we have lower inventory than pre-pandemic, we have higher inventory than the past few years.  So, Sellers – put your best foot forwarded in all aspects and ensure you have the right partners with the right skill set ready, willing, and able to tackle this market.   Buyers, more options, but that does
n't mean you will not be competing with other buyers for a property.  Align yourself with the savvy agent (s) who are well versed in strategic initiatives.  Any of us on the Amy and Noreen Team would welcome the opportunity to speak with you and show you, firsthand, how to thrive in today's market as odd as it may be.
Amy
https://amyandnoreenteam.com/wp-content/uploads/2021/02/Amy_Snook_9407-1-e1613160490953.jpg
1912
1821
Amy Snook
https://amyandnoreenteam.com/wp-content/uploads/2021/08/amy-and-noreen-team.png
Amy Snook
2023-05-26 15:35:06
2023-05-27 00:10:35
May 2023 Market Report – April 2023 Data For Palm Beach County – By Amy Snook