January 2020 Market Report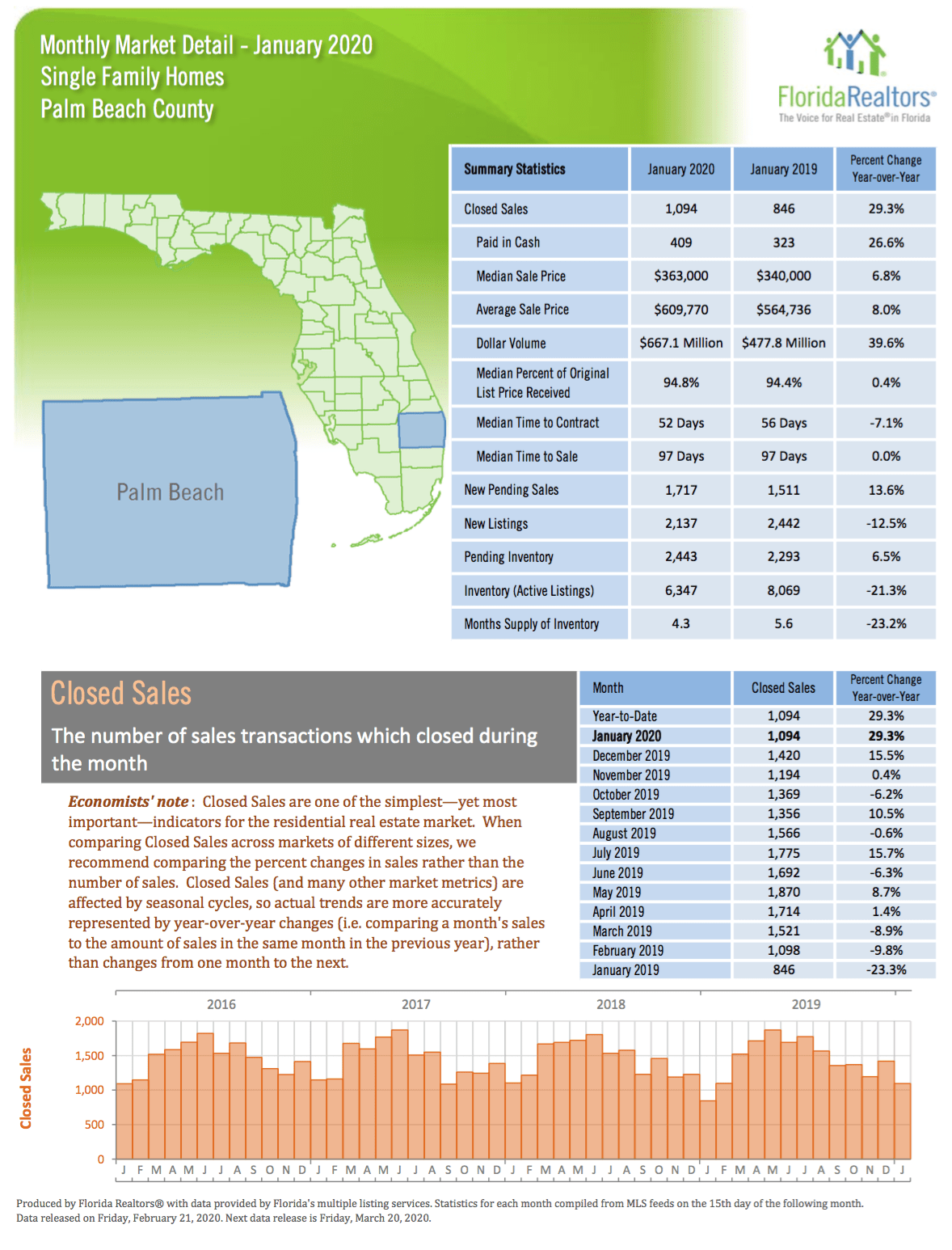 As I write this market report, I realize there are two very important aspects of how we are all evaluating the real estate market today.  Certainly the numbers from the most recent market report of January 2020 tell a story but also the recent stock market tumble in light of the corona virus concerns is top of everyone's minds.
      Let's start by talking about January results because they are important to decisions we all will be making today to sell or buy in Florida.  First – January was a great month in Florida Real Estate – especially in Palm Beach County. When comparing to January 2019, January 2020 showed an increase in the number of sales, both average and median prices and total dollar volume.  However, new listings were down from January last year as well as December 2019 – for a myriad of reasons.  What does this mean to our Palm Beach County market? – Well, we now have less inventory and as a result for the market from $300,000 to $599,999 – we have a balanced market – so, therefore, buyer's make realistic offers and seller's realize that there is no longer an advantage in a balanced market so before you choose not to respond to an offer – maybe consider a counter!  With inventory trending down this balanced market condition may change – stay tuned. The higher end market, however, is a different story – over $600,000 and upwards of the $1,000,000 mark it is still a buyer's market – a great amount of homes are sitting – over $1 million shows 19 months of inventory  – reminder that 6-9 months is considered a balanced market. If you are holding out for a cash buyer, we would suggest reconsidering – cash sales as a percent of all sales is around 37% – but with the interest rates so low, the cost of borrowing money is even more desirable. What do we recommend? That we as agents, dig deep into the pre-approvals – talk to the lenders who pre-approved the buyer – have they run credit, have they reviewed tax returns or w2s? IN other words how far into the process did they go and do they have any concerns?    Homes are being sold – the process, as always, needs to be properly managed and homes need to be properly marketed!
 As for our recent turn in the financial markets – and how this will impact real estate in Florida – Personally, I believe homes will continue to move in Florida – we may simply have to adjust how we show and how we all work together to get homes sold.  There is even more value in videos and remote showings – photography is critical.   Also – how we interact at face to face showings – for now we simply don't shake hands – we just need to be smart about how we do business – in any field right now.
https://amyandnoreenteam.com/wp-content/uploads/2020/03/Screen-Shot-2020-03-11-at-8.45.32-PM.png
1546
1178
Amy Snook
https://amyandnoreenteam.com/wp-content/uploads/2021/08/amy-and-noreen-team.png
Amy Snook
2020-03-12 00:55:31
2021-04-24 01:08:04
January 2020 Market Report